Inspired by Christ
Built for Eternity
Whatever you do, Do it as if you were working for Him. Colossians 3:23
Inspired by Christ
Built for Eternity
Custom built at 60" round it's versatile enough to fit well in a modern room or a rustic setting
new collection
The Spring 2020
new collection release spring seasons
new season
New Collection Release
new collection
The Spring 2020
new collection release spring seasons
new collection
The Spring 2020
new collection release spring seasons
new season
New Collection Release
new collection
The Spring 2020
new collection release spring seasons
new collection
The Spring 2020
new collection release spring seasons
new season
New Collection Release
new collection
The Spring 2020
new collection release spring seasons
new collection
The Spring 2020
new collection release spring seasons
new season
New Collection Release
new collection
The Spring 2020
new collection release spring seasons
ECO-FRIENDLY FARM TABLES, ALL NATURAL MATERIALS, NON-TOXIC & ODORLESS.
100% Solid Wood Farm Tables
Contact us to order your custom built eternal farm table.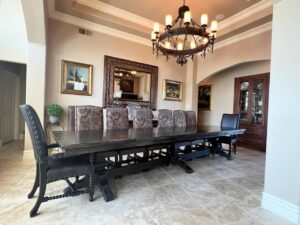 A family in New York with a large dining area and a bunch of kids needed a big dining room table to go with their new home. They had Jesus...