Inspired by Christ
Built for Eternity
Whatever you do, Do it as if you were working for Him. Colossians 3:23
Inspired by Christ
Built for Eternity
Custom built at 60" round it's versatile enough to fit well in a modern room or a rustic setting
ECO-FRIENDLY FARM TABLES, ALL NATURAL MATERIALS, NON-TOXIC & ODORLESS.
100% Solid Wood Farm Tables
Contact us to order your custom built eternal farm table.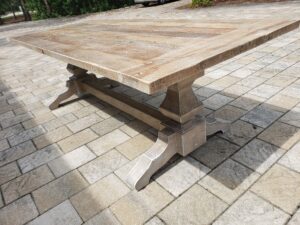 One is a reclaimed wood trestle table which is the natural color of the wood with only white wash added to it and sealed. The top is 2" thick. The...