Inspired by Christ
Built for Eternity
Whatever you do, Do it as if you were working for Him. Colossians 3:23
Inspired by Christ
Built for Eternity
Custom built at 60" round it's versatile enough to fit well in a modern room or a rustic setting
new collection
The Spring 2020
new collection release spring seasons
new season
New Collection Release
new collection
The Spring 2020
new collection release spring seasons
new collection
The Spring 2020
new collection release spring seasons
new season
New Collection Release
new collection
The Spring 2020
new collection release spring seasons
new collection
The Spring 2020
new collection release spring seasons
new season
New Collection Release
new collection
The Spring 2020
new collection release spring seasons
new collection
The Spring 2020
new collection release spring seasons
new season
New Collection Release
new collection
The Spring 2020
new collection release spring seasons
ECO-FRIENDLY FARM TABLES, ALL NATURAL MATERIALS, NON-TOXIC & ODORLESS.
100% Solid Wood Farm Tables
Contact us to order your custom built eternal farm table.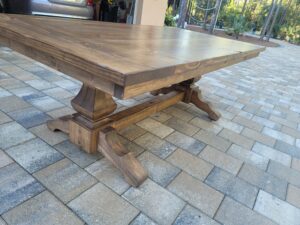 https://vm.tiktok.com/ZM8gd9fsp/ This busy mom reached out to Jesus Tables to make her a farm table for her new home. She homeschools her kids so she needed something tough for daily...